Frequently Asked Questions
<
While going about our daily business in homes and offices in and around South Yorkshire, Strafford Repairs are constantly asked questions from our customers relating to TV aerials and digital TV reception. Many of these questions crop up on a regular basis (almost daily in fact), so we decided to list those that we consider to be the most commonly asked and which we think will be of value to our website visitors.
1. How do I know whether I live within the digital TV coverage area?
Although most areas of the UK can now get digital reception, there are still some places yet to receive coverage.
2. I've installed my Freeview box but a number of channels are breaking up and some are missing.
What can I do to fix this? Most problems with Freeview are related to poor signal quality from existing aerials. If your aerial was installed a long time ago or you suspect it has deteriorated over time giving poor results on analogue broadcasts, then you need a local installer such as Strafford Repairs to advise you on a suitable replacement aerial for your area.
3. Can I use an indoor aerial with my Freeview receiver?
These types of aerials are common in dwellings where access to signals from outdoor aerials or signal networks is difficult. Unfortunately, the 'unforgiving' nature of digital makes indoor reception very problematic. Similarly, the same can also be said of loft or roof space aerials.
4. I've seen aerials for digital TV on sale in catalogues and DIY stores so can I upgrade my aerial myself?
Strafford Repairs doesn't recommend aerial installation as a DIY job for various reasons. Firstly, there are obvious Health and Safety aspects to consider which trained installers such as ourselves are equipped to deal with. Secondly, our engineers carry the necessary signal test meters essential for establishing the amount of signal present at your location and type of antenna required. Strafford Repairs acknowledges that a large number of houseowners enjoy the challenge of jobs such as these and there is certainly a wide range of equipment available for DIYers. Please bear in mind though that in the event of equipment failure, like all aerial installers, we will be extremely reluctant to use the arial you purchased as we cannot then offer our mandatory 12-month guarantee on equipment that we did not supply originally.
5. Can I connect my Freeview box to an existing Satellite Dish on my house or do I need to connect it to an aerial?
Since Freeview is delivered through the terrestrial aerial network in the UK, it will need a suitable aerial.
6. How I can tell if my current aerial will work with Freeview or do I need to replace it?
There no real way of knowing if your aerial will receive all the digital multiplexes without using test equipment. If you'd like to have your aerial tested, please contact Strafford Repairs to a arrange a visit. If we find that a new aerial is required and our engineer is able to install one 'on the spot', there will be no fee for testing.
7. Can I get Freeview in Europe?
Freeview is delivered through the terrestrial aerial transmitter network in the UK and it's therefore not possible to receive these signals across the English Channel, in France or in other bordering countries.

When your home switches to digital will depend on where you live in the UK.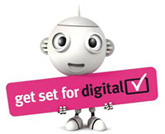 All households with a Freeview TV or box will need to re-tune at both stages of switchover and from time to time to keep receiving channels and services
Freeview viewers will need to do a full re-tune (sometimes called 'first time installation' or 'factory reset') of their TV or box at both stages of switchover and from time to time to keep receiving channels and services.
We supply and install Digital Tick approved equipment.